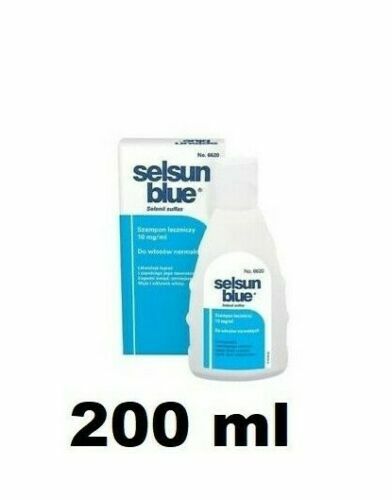 Wskazania:
Selsun niebieski jest zalecany do stosowania w przypadku łupieżu.

Akcja:
Selsun blue to szampon przeciwłupieżowy zawierający 1% roztwór dwusiarczku selenu - substancji hamującej nadmierne złuszczanie, zaczerwienienie i świąd. Błękit Selsun skutecznie pomaga wyeliminować nawet najbardziej uporczywy łupież i zapobiega jego nawrotom. Zawiera substancje myjące i odżywcze, dzięki którym włosy wyglądają zdrowo i czysto.

Jak używać:
Nałóż niewielką ilość szamponu na mokre włosy i delikatnie masuj, aż utworzy się piana. Pozostaw na skórze głowy przez 2-3 minuty, a następnie dokładnie spłucz wodą.

Środki ostrożności:
Nie stosować na uszkodzoną skórę. W przypadku farbowania włosów, trwałej fali, utleniania, nie nakładaj szamponu bezpośrednio 2 dni przed i po nim. Unikać kontaktu z oczami i wrażliwymi częściami skóry. Jeśli preparat dostanie się do oczu, szybko przepłucz je zimną wodą. Unikaj kontaktu z biżuterią, przygotowanie do użytku zewnętrznego.
Indications:
Selsun blue is recommended for use in the case of dandruff.

Action:
Selsun blue is an anti-dandruff shampoo containing a 1% solution of selenium disulphide - a substance that inhibits excessive exfoliation, redness and pruritus. Selsun blue effectively helps to eliminate even the most persistent dandruff and prevents its recurrence. Contains washing and nourishing substances that make your hair look healthy and clean.

How to use:
Apply a small amount of shampoo on wet hair and massage gently until it forms foam. Leave on the scalp for 2-3 minutes and then rinse thoroughly with water.

Precautions:
Do not use on damaged skin. In the case of hair dye, permanent wave, oxidation, do not apply shampoo directly 2 days before and after them. Avoid contact with eyes and sensitive parts of the skin. If the preparation gets into the eyes, rinse them quickly with cold water. Avoid contact with jewelry, preparation for external use.