Lacalut AKTIV, pasta do zębów + 75 ml + szczoteczka do zębów za darmo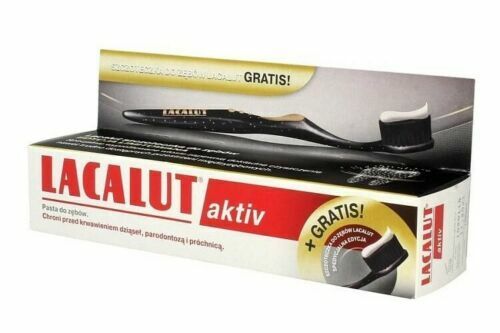 Lacalut Aktiv to innowacyjna pasta do zębów, która zapobiega krwawieniu dziąseł i zmniejsza ryzyko wystąpienia próchnicy i zapalenia przyzębia. Produkt minimalizuje stany zapalne tkanek przyzębia, a także stymuluje procesy regeneracyjne. Fluorek glinu zwiększa odporność szkliwa na choroby, a chlorheksydyna ma właściwości przeciwbakteryjne. Pasta do działania Lacalut Aktiv została potwierdzona badaniami klinicznymi.

Produkt przeznaczony jest do stosowania jako tradycyjna pasta do zębów. Zęby należy myć dwa razy dziennie przez około 2-3 minuty. Dzieci w wieku poniżej 6 lat zaleca się stosowanie niewielkiej ilości pasty do zębów (mniej więcej wielkości groszku). Pasta do zębów może być stosowana przez kobiety w ciąży.

Sprawdź inne moje oferty.
Lacalut AKTIV, Toothpaste + 75ML + 
toothbrush for free
Lacalut Aktiv is an innovative toothpaste that prevents bleeding gums and reduces the risk of caries and periodontitis. The product minimizes inflammation of periodontal tissues and also stimulates regeneration processes. Aluminum fluoride increases the resistance of the enamel to disease, while the chlorhexidine has antibacterial properties. Action paste Lacalut Aktiv has been confirmed by clinical studies.
The product is intended for use as a traditional toothpaste. The teeth should be brushed two times a day for about 2-3 minutes. Children under 6 years of age is recommended to use a small amount of toothpaste (about the size of a pea). Toothpaste can be used by pregnant women.
Please check my other listings.