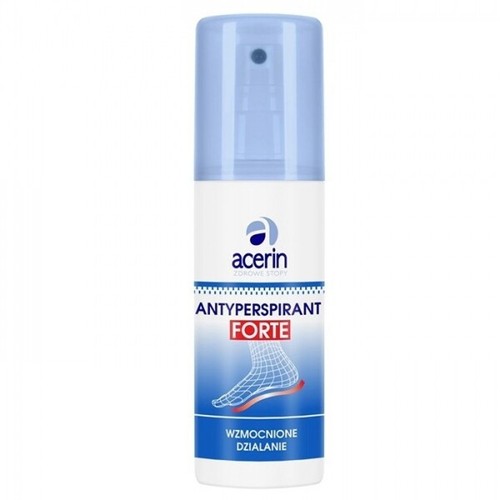 ACERIN Forte antiperspirant, foot deodorant, 100ml - product description
Especially recommended for excessive sweating of the feet. Effectively inhibits sweat secretion and has antibacterial properties. Keeps feet dry and fresh for a long time. Provides long-lasting feeling of freshness. Also recommended for antifungal prophylaxis.
Indications: excessive sweating of the feet, antifungal prophylaxis.
How to use: shake before use. Spray from a distance of approx. 15 cm. For washed feet. Do not use on damaged and irritated skin. If the atomizer becomes clogged, immerse it in warm water for a few minutes.
Main ingredients: menthol, Benzyl Salicytate.
Dermatologically tested.
ACERIN Antyperspirant Forte, dezodorant do stóp, 100ml - opis produktu
Szczególnie polecany przy nadmiernym poceniu się stóp. Skutecznie hamuje wydzielanie potu i działa antybakteryjnie. Utrzymuje stopy suche i świeże przez długi czas. Zapewnia długotrwałe uczucie świeżości. Polecany również w profilaktyce przeciwgrzybiczej.
Wskazania: nadmierne pocenie się stóp, profilaktyka przeciwgrzybicza.
Sposób użycia: przed użyciem wstrząsnąć. Rozpylać z odległości ok. 15 cm. Na umyte stopy. Nie stosować na uszkodzoną i podrażniona skórę. W przypadku zatkania się atomizera należy zanurzyć go na kilka minut w ciepłej wodzie.
Główne składniki: mentol, Benzyl Salicytate.
Przebadany dermatologicznie.