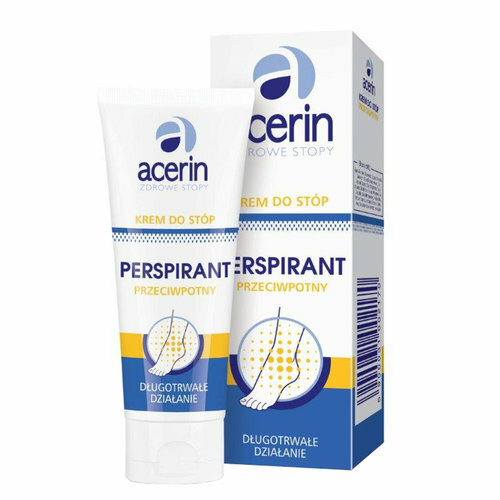 ACERIN Perspirant, anti-sweating foot cream, 75ml - product description
Foot cream with excessive sweating, antiseptic and antiperspirant effect. Keeps feet fresh and dry all day. Contains chlorhydrol, which provides effective protection against perspiration and an unpleasant smell. The addition of triclosan neutralizes the sweat odor. The cream absorbs quickly and smells pleasant.
Indications: excessive sweating of the feet, an unpleasant smell.
How to use: A small amount of cream should be applied to washed and dried feet. Wait until completely absorbed. Use daily.
Active ingredients: chlorhydrol, triclosan.
Dermatologically tested.
ACERIN Perspirant, krem przeciwpotny do stóp, 75ml - opis produktu
Krem do stóp z nadmierną potliwością, o działaniu  antyseptycznym i  antyperspiracyjnym. Utrzymuje stopy świeże i suche przez cały dzień. Zawiera chlorhydrol , który zapewnia skuteczną ochronę przed poceniem oraz nieprzyjemnym zapachem. Dodatek  triklosanu  neutralizuje przykry zapach potu. Krem szybko  się  wchłania i przyjemnie pachnie .
Wskazania: nadmierna potliwość stóp, nieprzyjemny zapach.
Sposób użycia: niewielką ilość kremu należy nanieść na umyte i wysuszone stopy. Odczekać do całkowitego wchłonięcia. Stosować codziennie.
Składniki aktywne: chlorhydrol,  triklosan.
Przebadany dermatologicznie.