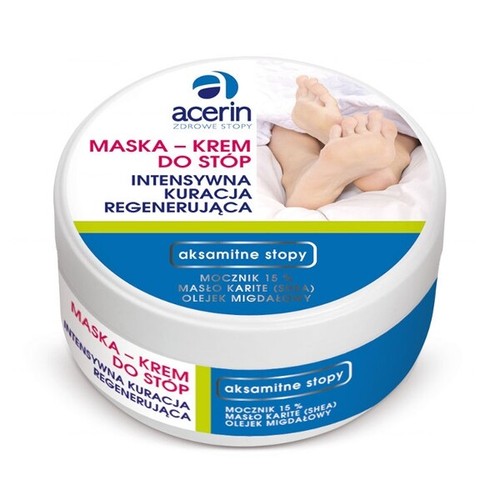 ACERIN, foot cream mask, 125ml - product description
The rich formula of the cream mask provides triple care, softens, moisturizes and regenerates the skin of the feet. Enriched with sweet almond oil, rich in proteins, vitamins A and E and group B, it strengthens the skin's protective barrier. Karite butter restores skin elasticity and softness. Urea, provitamin B5, glycerin and NMF complex intensively soften, moisturize and improve skin elasticity while alleviating its irritation.
The feet after the mask treatment will become smooth and velvety to the touch.
Indications: foot care.
Usage: soak your feet in warm water, dry and apply a mask with a thicker layer, put on socks and leave to absorb overnight. The treatment is best used 1-2 times a week.
Main ingredients: sweet almond oil, Karite butter, urea, provitamin B5, glycerin and NMF complex.
Dermatologically tested.
Prześlij opinię
Historia
Zapisane
Społeczność
ACERIN, maska-krem do stóp, 125ml - opis produktu
Bogata formuła kremowej maski zapewnia potrójną pielęgnację, zmiękcza, nawilża i regeneruje skórę stóp. Wzbogacona o olejek ze słodkich migdałów bogaty w proteiny, witaminy A i E i z grupy B wzmacnia barierę ochronną skóry. Masło Karite przywraca skórze elastyczność i miękkość.  Mocznik, prowitamina B5, gliceryna i kompleks NMF intensywnie zmiękczają, nawilżają i poprawiają sprężystość skóry jednocześnie łagodząc jej podrażnienia.
Stopy po kuracji maską staną się wygładzone i aksamitne w dotyku.
Wskazania: pielęgnacja stóp.
Sposób użycia: stopy namoczyć w ciepłej wodzie, wysuszyć i nałożyć maskę grubszą warstwą, ubrać skarpety i pozostawić do wchłonięcia na noc. Kurację najlepiej stosować 1-2 razy w tygodniu.
Główne składniki: olejek ze słodkich migdałów, masło Karite, mocznik, prowitamina B5, gliceryna i kompleks NMF.
Przebadany dermatologicznie.