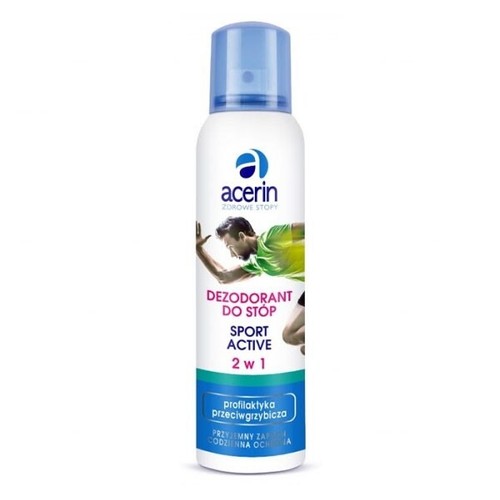 ACERIN Sport Active, foot deodorant, 150ml - product description
Prevents odor and ensures long-lasting feeling of freshness. Has antibacterial properties. It contains the active fraction of tea tree oil, which limits the growth of bacteria and fungi. Recommended for systematic use for people wearing windproof shoes and actively playing sports.
Indications: antifungal prophylaxis.
How to use: shake before use. Spray from a distance of approx. 15 cm. For washed feet. Do not use on damaged and irritated skin. If the atomizer becomes clogged, immerse it in warm water for a few minutes.
Main ingredients: Linalol, Hwxyl Cinnamal, Limonene, Geraniol, Citronelol.
ACERIN Sport Active, dezodorant do stóp, 150ml - opis produktu
Zapobiega powstawaniu przykrego zapachu i zapewnia długotrwałe uczucie świeżości. Ma właściwości antybakteryjne.  Zawiera aktywną frakcję olejku z drzewa herbacianego, który ogranicza rozwój bakterii i grzybów. Zalecany do systematycznego stosowania dla osób noszących nieprzewiewne obuwie i aktywnie uprawiających sport.
Wskazania: profilaktyka przeciwgrzybicza.
Sposób użycia: przed użyciem wstrząsnąć. Rozpylać z odległości ok. 15 cm. Na umyte stopy. Nie stosować na uszkodzoną i podrażniona skórę. W przypadku zatkania się atomizera należy zanurzyć go na kilka minut w ciepłej wodzie.
Główne składniki: Linalol, Hwxyl Cinnamal, Limonene, Geraniol, Citronelol.