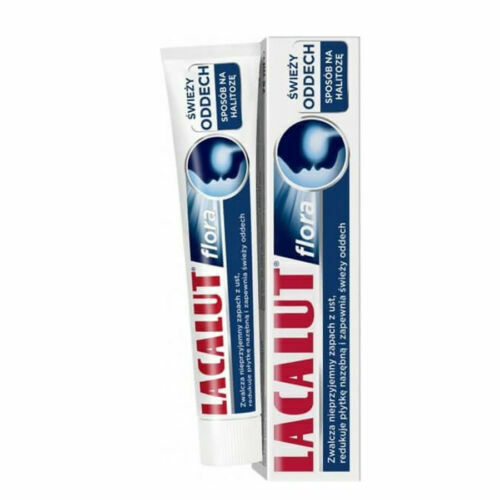 LACALUT Flora, pasta do zębów, 75ml - opis produktu
Specjalna formuła pasty Lacalut flora zwalcza nieprzyjemny zapach z ust i zapewnia świeży oddech. Dodatkowo hamuje powstawanie kamienia nazębnego oraz zapobiega próchnicy.

Wskazania: nieprzyjemny zapach z ust.

Sposób użycia: czyścić zęby co najmniej dwa razy dziennie, najlepiej po każdym posiłku.

Główne składniki: fluor 1482 ppm, mentol, glukonian cynku.
LACALUT Flora, toothpaste, 75ml - product description
The special formula of Lacalut flora paste combats the unpleasant smell from the mouth and provides fresh breath. In addition, it inhibits the formation of tartar and prevents tooth decay.

Indications: unpleasant smell from the mouth.

How to use: brush your teeth at least twice a day, preferably after each meal.

Main ingredients: fluorine 1482 ppm, menthol, zinc gluconate.