http://www.aflofarm.com.pl/en/products/cosmetics/dropingo/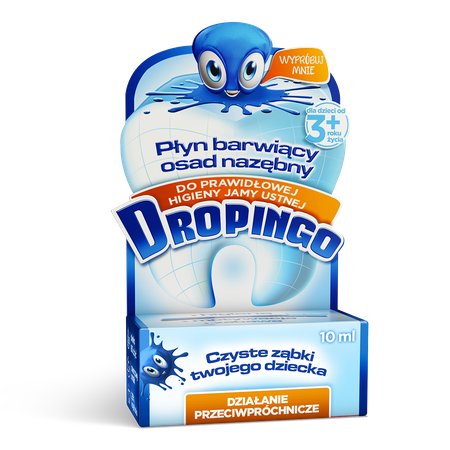 DROPINGO Fluid coloring dental plaque 10 ml FOR KIDS !! CLEAN TEETH !!
 - product description
Fluid stains dental plaque and area positions that require more thorough brushing. The blue color of the teeth motivates children to brush them thoroughly. Covered in play, they help verify the correct brushing of teeth by a child and improve brushing technique.

Indication: the product is intended for adults and children to indicate the areas that are not cleaned during brushing and the motivation for careful oral hygiene.

How to use: apply before brushing your teeth. Apply 2 drops on the tongue. Rinse mouth with water to distribute use. Spit it out. You can also make a solution by adding 2 drops to 15 ml of water. Plaque will get blue. Then brushed teeth to remove staining.

Main ingredients: sucralose, food coloring.
Dropingo, płyn barwiący osad nazębny, 10ml - opis produktu

Płyn barwi osad nazębny i pozycje miejsca wymagające dokładniejszego szczotkowania. Niebieskie zabarwienie zębów motywuje dzieci do ich dokładnego wyszczotkowania. Objęte zabawą pomagają zweryfikować prawidłowe umycie zębów przez dziecko i poprawić technikę szczotkowania.
 
Wskazanie: produkt przeznaczony jest dla dorosłych i dzieci w celu wskazania niedoczyszczanych w trakcie szczotkowania miejsc i motywacji do starannej higieny jamy ustnej.
 
Sposób użycia: stosować przed umyciem zębów. Nanieść 2 krople na język. W celu rozprowadzenia użycia przepłukać usta wody. Wypluć. Można również sporządzić roztwór dodając 2 krople do 15 ml wody. Płytka nazębna wybarwi się na niebiesko. Następnie szczotkowane zęby do usunięcia zabarwienia.
 
Główne składniki: sukraloza, barwnik spożywczy.