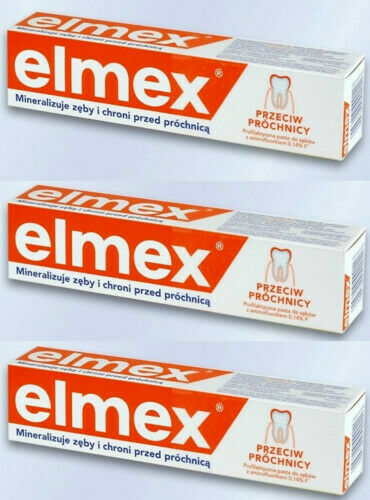 Elmex remineralize and strengthen tooth enamel. Amine fluoride promotes the formation of mineral deposits, which hardens the tooth enamel by nocturnal re-storage of minerals. Elmex - and your teeth 
more resistant to decay. Caries protection with amine fluoride - clinically tested and scientifically accepted. Elmex toothpaste amine fluoride offer specific protection for gums teeth.
Greater anti-caries protection and enhance longevity thanks to amine fluoride. Remineralisation of initial caries.
Aqua, Hydrated Silica, Sorbitol, Hydroxyethylcellulose, Olaflur (Aminfluorid), Aroma, Saccharin, Limonene, CI 77891
Ochrona przed próchnicą
3 x pasta do zębów 75 ml
Elmex remineralizuje i wzmacnia szkliwo zębów. Fluorek aminy sprzyja tworzeniu się złogów mineralnych, które utwardzają szkliwo zębów poprzez nocne magazynowanie minerałów. Elmex - i twoje zęby

bardziej odporny na rozkład. Ochrona przed próchnicą za pomocą fluorku aminy - przebadana klinicznie i zaakceptowana naukowo. Elmex pasta do zębów fluorek aminy zapewnia szczególną ochronę zębów dziąseł.

Lepsza ochrona przed próchnicą i dłuższa żywotność dzięki fluorek aminy. Remineralizacja próchnicy początkowej.

Składniki

Aqua, uwodniona krzemionka, sorbitol, hydroksyetyloceluloza, olafur (aminfluorid), aromat, sacharyna, limonen, CI 77891