Eveline HYALURON & COLLAGEN 
Anti - Wrinkle & Smoothing Eye Cream - Gel Day / Night 15ml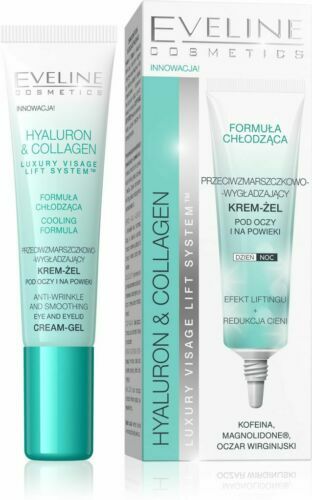 Effectively reduces wrinkles and dark circles, restores skin elasticity, deeply nourishing and moisturizing. Provides an immediate lifting effect, and the gentle cooling formula perfectly refreshes and soothes. It contains valuable ingredients, such as: spherical hyaluronic acid, which fills wrinkles. 
Blue Collagen ™, which restores youthful softness. 
Witch hazel reduces the feeling of swelling and reduces dark circles under the eyes. 
Chestnut and caffeine extract and Magnolidone, which has a relaxant effect on mimic wrinkles, smoothes and guarantees the lifting effect.
Eveline HYALURON & COLLAGEN
Anti-Wrinkle & Smoothing Eye Cream - Gel Day / Night 15ml
Skutecznie redukuje zmarszczki i cienie, przywraca elastyczność skóry, głęboko odżywia i nawilża. Zapewnia natychmiastowy efekt liftingu, a delikatna formuła chłodzenia doskonale odświeża i koi. Zawiera cenne składniki, takie jak: kulisty kwas hialuronowy, który wypełnia zmarszczki.
Blue Collagen ™, który przywraca młodzieńczą miękkość.
Leszczyna czarownica zmniejsza uczucie obrzęku i redukuje cienie pod oczami.
Wyciąg z kasztanowca i kofeiny oraz Magnolidon, który działa relaksująco na zmarszczki mimiczne, wygładza i gwarantuje efekt liftingu.